ETHER aims to provide a holistic approach for integrated terrestrial-non-terrestrial networks targeting at 100% network coverage, 99.99999% service continuity and 99.99999% reliability, with 3 times higher energy efficiency and 95% Total Cost of Ownership reduction compared to current terrestrial only deployments. To achieve these goals, ETHER develops solutions for a Unified Radio Access Network (RAN) and for the energy-efficient, AI-enabled resource management across the terrestrial, aerial and space domains, while creating the business plans driving future investments in the area.
MULTI- LAYERED ETHER ARCHITECTURE
ETHER envisions a unified 3D RAN network that comprises a fully-software programmable multi-layered and distributed edge-computing and caching architecture. It is based on a distributed radio controller architecture that enables its zero-touch operation.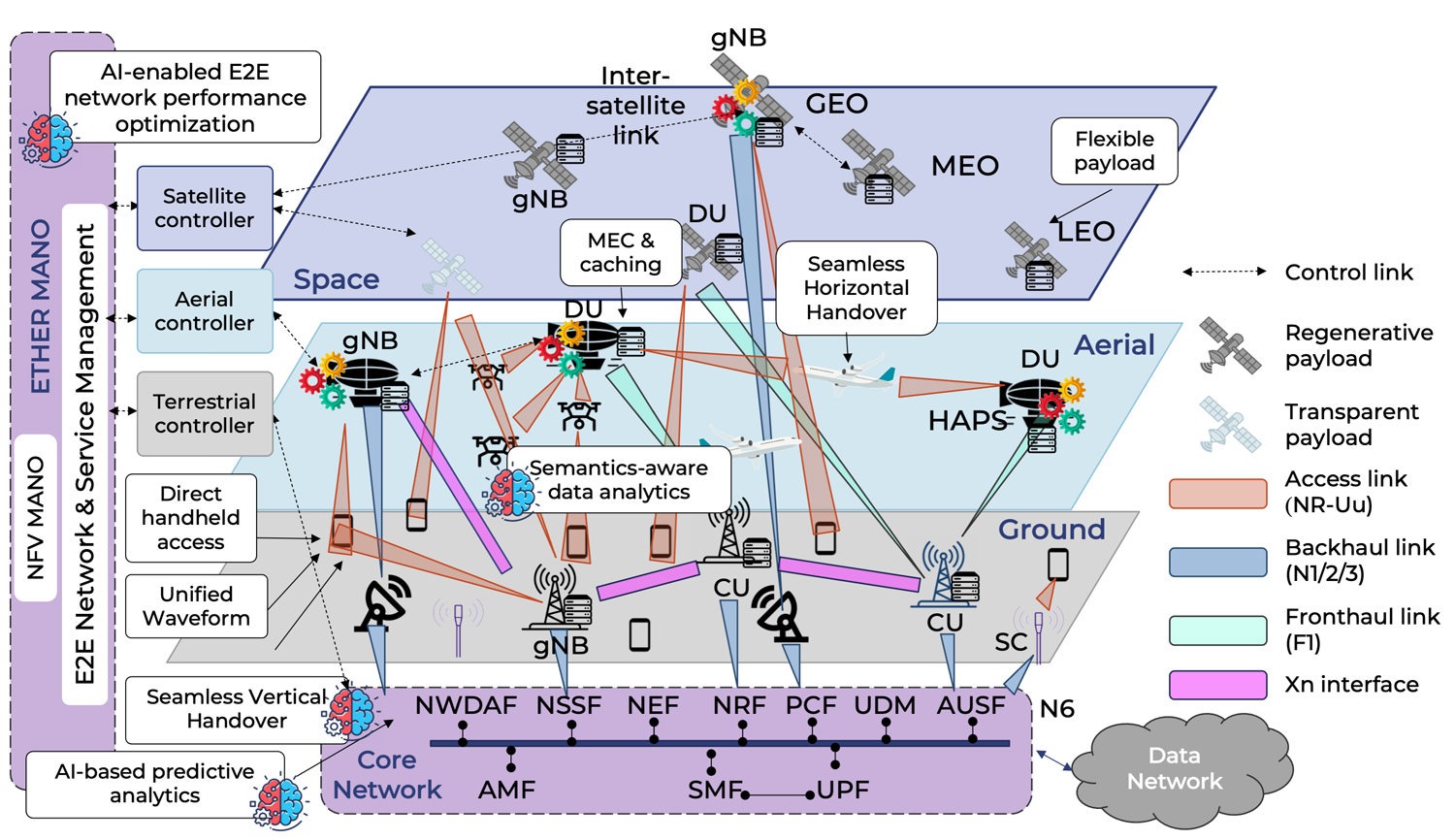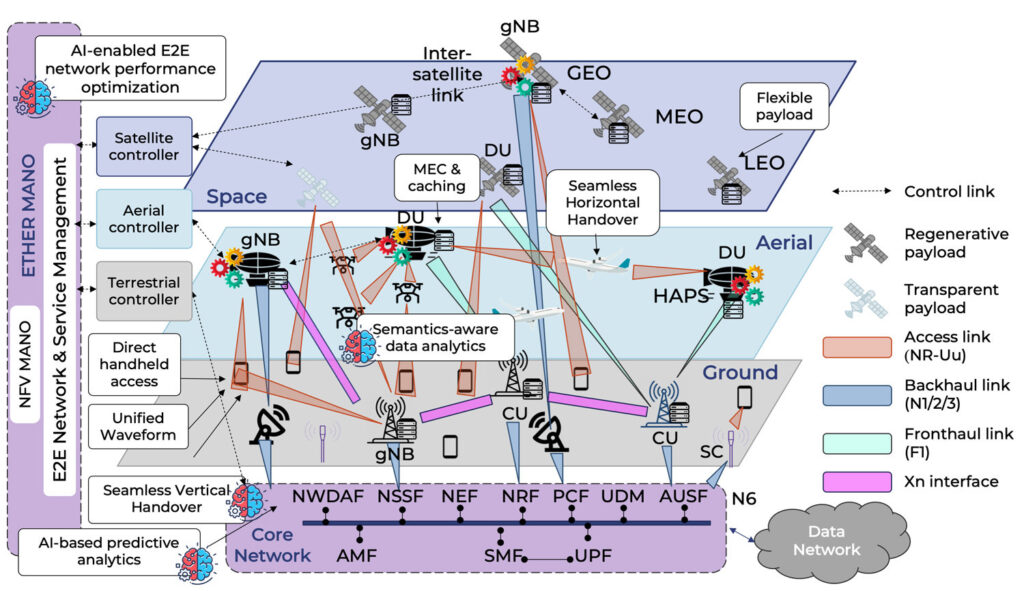 KEY CONCEPTS
Enabling unified RAN performance through efficient handheld device antenna design at the Ka band together with distributed beamforming from LEO satellite swarms for direct access, unified waveform development, and horizontal/vertical handovers among the different radio access technologies (RATs), so that the users experience service continuity.
Software-based multi-layered integrated network optimization in a zero-touch fashion by advanced data-driven algorithms that rely on gathering a massive amount of data generated by terrestrial, aerial and space platforms. This pillar includes also the enabling technologies for the network softwarization, such as the software-defined payloads for aerial/space platforms, referred to as flexible payloads in the rest of the document.
Multi-layered distributed edge-computing and caching for offloading computational tasks related to a massive amount of data to the edge and thus close to where the data is produced. This is the only viable way to achieve in such a highly heterogeneous, large scale and dynamic network the latencies envisioned in forthcoming 6G networks.
OBJECTIVES
ETHER relies on a multi-layered and unified space-aerial-terrestrial architecture, leveraging the benefits of Artificial Intelligence/ Machine Learning (AI/ML) for the optimization of the highly complex and heterogeneous "network of networks".
Provide solutions for a unified and sustainable RAN for the integrated terrestrial and non-terrestrial network.
Provide an AI-based framework for the self-evolving network slicing management and orchestration of the integrated network.
Architect a viable, highly energy- and cost-efficient, flexible integrated terrestrial and non-terrestrial 6G network offering seamless and continuous connectivity.
Demonstrate the effectiveness of ETHER solutions by experimentation activities that target practical applications.
Identify the key benefits that will drive the investment in the integration of non-terrestrial with terrestrial networks.